Ed's Q, Gussy's, Porchetta, and Fully Loaded Fritters Join the Movement!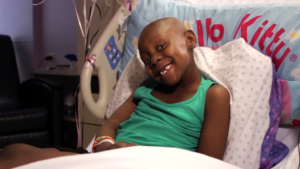 How would you say "thank you" to someone who saved your life? Well, if you're a kid being treated at Duke Children's Hospital, I suppose you could write them a note, give them a big hug and smile, and maybe even buy them lunch with your allowance. At 12 years old, I realized after my successful battle with cancer at Minneapolis Children's Hospital in Minnesota, that lunch might be tough because there was a whole bunch of people I wanted to thank and not enough allowance to go around.
From the scientists who study and diagnose our illness, to the developers of the medicine that will ultimately heal us, and the team of doctors who study and implement the plans, and the nurses that see it through and comfort us, and the college interns who bring us popsicles with a smile, and the cleaners who clean the floors after we get sick, and the security guards that keep us safe in our hospital beds, they all deserve a meal of gratitude for teaming up to save a child. So how can a kid buy lunch for his personal heroes when there are so many people to thank?
Well, we know that in order to do great things it requires a team of great people. On behalf of the kids being treated at Duke Children's Hospital, my friends at Massive Amounts of Good and the Art Institute of Raleigh-Durham and I have assembled an amazing team of North Carolina food truck owners to communicate their gratitude and that of the entire Durham community. In case you are wondering, we do this because we can. It's as simple as that. And, we can because of the amazing people behind these food trucks.
Ed Mitchell's Q on Wheels!
Wow! Do you know how much effort and love goes into good BBQ? Legendary pitmaster Ed Mitchell and his son Ryan definitely do. Having him at Duke means the world to me because BBQ is at the heart of where my love for food began. Ed and his son Ryan have been cooking original Carolina whole hog barbecue for years, and Ed is "The Pitmaster" of North Carolina and I get to learn a few tips from the best. He is also known as the "Pope" of BBQ and has been on Food Network, Rachael Ray, The Today Show, and even kicked Bobby Flay's butt on Throwdown. I can't wait to meet you Ed and Ryan! Listen to Ed talk about BBQ on National Geographic below:
Gussy's Greek Street Food!
Gus Megaloudis is a former professional soccer player and is known as 'Gussy' and has been nicknamed by Duke students 'The Greek Devil'. Since 2009, Gus and his wife Yael have been running 'The Greek Devil' on Duke's campus. He and his staff serve fresh Gyro's off the spit, falafels, Greek yogurt with toppings, hummus, cold sandwich wraps and other eat-on-the-go dishes. I have really come to appreciate Mediterranean food over the last year. Most especially, because of the amazing health benefits of eating this way. I love the flavors and will always encourage people to eat Greek! What is so cool about Gus and Yael is their smiles. I can't wait to meet you Gus and Yael — check them out below:
Porchetta!
Porchetta is a fascinating food truck with crazy looking animals on the side of it — an obvious draw for me. The owners are Nick Crosson and Matt Hayden and they are serving up Italian style barbecue pork sandwiches. What is Italian barbecue? I don't know, but I really want to try. Their staple menu item is the Porchetta, an Italian Style Pork stuffed with herbs and spices and pulled into a delicious sandwich experience unlike any other. This is the kind of thing you live for when you're on the go, but craving comfort food. I can't wait to meet Nick and Matt, work in their truck and dive into one of these sandwiches. Just watch the short video below if you want your mouth to start watering.
Fully Loaded Fritters!
Fully Loaded Fritters is a unique gourmet food truck owned by Hans Lang serving made-to-order loaded fritters. They have a fritter for everyone, including pork, chicken, beef, seafood lovers and even a bananas foster and apple for the sweet tooth. Mac and cheese and meatball fritters are a big hit too. The Reuben fritter is Hans' take on the classic sandwich. The golf-ball-sized fritter is studded with bits of corned beef and served with a homemade horseradish, whole-grain honey mustard dipping sauce that adds a touch of spiciness to each bite. There's also a Buffalo chicken fritter, served with a peppercorn buttermilk ranch sauce, and an eastern North Carolina barbecue pork fritter with a side of blueberry-chipotle barbecue sauce. All of this means Fully Loaded Fritters gives a different bite than other food trucks and I am totally pumped to learn from Raleigh Durham's new food scientist, Hans Lang.