It's simple –
We do good with food
A FOOD NON-PROFIT ORGANIZATION
ChefLucasFood is a non-profit 501(c)(3) organization founded in Minnesota by the Hobbs family during the fall of 2015 after 12-year-old Lucas Hobbs exercised a selfless wish – to use food trucks to communicate his appreciation to the community that supported him during his battle with cancer. Today, through food industry partnerships, we host a broad range of charitable food truck events to benefit service organizations and serve the needs of families battling pediatric cancer by providing meals at no cost. Moreover, we specialize in supporting food inspired events of nonprofit organizations that serve cancer/medical related causes. This is all made possible by the generous donations of individuals and our sponsors. To learn more about contributing, visit our Support Chef Lucas Food page.
Our singular mission is to
do good with food.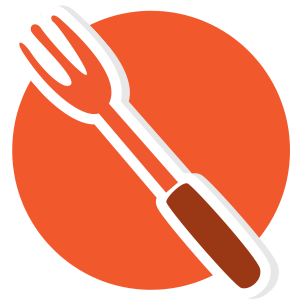 We understand good food can help strengthen families and communities during difficult times. We achieve this by forming charitable partnerships with the food industry and promoting pediatric cancer awareness.
Our Story
When Lucas was just 12 years old he was diagnosed with Stage 3 Hodgkin's Lymphoma. Before his diagnosis, Lucas had not been feeling well for a couple of months prior – he had lost his appetite, started to lose weight and battled constant re-occurring fevers. This eventually led to an X-ray where his doctor discovered a large tumor in the center of his chest. His life, and that of his family, would be forever changed.
Read More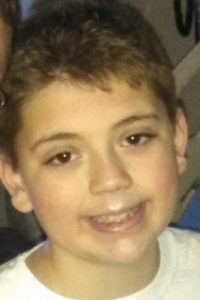 As the doctors' visits, hospital stays and chemotherapy took its toll, Lucas spent almost 40 nights at Minneapolis Children's hospital. He would undergo numerous tests, surgery, radiation treatments and blood transfusions. Like many cancer patients battling the side effects of chemo therapy, food, something Lucas had always loved, would often become the enemy. In fact, even though Lucas was having trouble eating food, he didn't give up his love for all things culinary. In fact, all the days and nights in the hospital and in bed resulted in hours and hours of Food Network TV and movies, including the movie Chef, which further cemented Lucas' love of food and now food trucks.
As difficult as those times were, Lucas and his family were blessed by an incredibly supportive community and food was often central to that support. His church, St. John Neumann of Eagan, MN was the first to respond in his hour of need. In addition to prayers and love, friends and neighbors would bring food to him and his family – really good food! Lucas noted how this act of kindness made him feel good and made him feel loved – he learned there was power in good food.

It wasn't long before Lucas' mom and dad had discovered a new phenomenon occurring in the food industry – meal kits. Having the meal planning and the shopping done for chef-inspired meals created a family culinary experience, as it turned out, was just what the doctor ordered. Lucas looked forward to the weekly meal deliveries and became excited about food. They discovered that cooking was not only therapeutic to Lucas, but the whole family.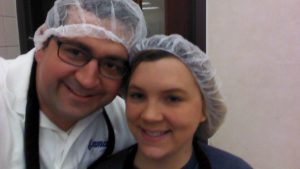 As Lucas battled on and got stronger, his dad was committed to giving back and paying it forward. During Easter of 2015, in honor of his son's big heart and love of food, Lucas' dad, Matt, purchased 13 turkeys and prepared a meal for the Boys and Girls Club of St. Paul, MN. Later, at Lucas' request, his mom and dad helped prepare a meal at the Dorothy Day homeless shelter in St. Paul, MN. Both acts, unbeknownst to them at the time, would become the founding moments of the Chef Lucas Food mission and what they do today.
While Lucas' and his medical team battled his cancer, the Make-A-Wish Foundation asked what he would like for his wish, and his was somewhat unusual – I want a food truck so I can give back to everyone that was so kind to me.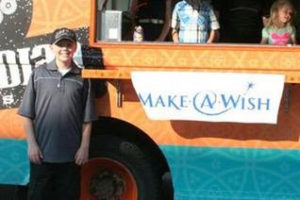 And with that, an idea was born. The Make-A-Wish Foundation of Minnesota sprang into action connecting with the Minnesota Food Truck Association where multiple food trucks joined Lucas to make his wish come true. Not only did they roll into the hospital ready to serve the doctors, nurses, patients and families that had become part of Lucas' extended family, they fed his church, the teachers at his school, a senior citizen center, a homeless shelter, and the Minneapolis Police Department.
Today, Lucas is 14 and is joyfully in remission from his cancer. Lucas and his family do not take for granted the gift that they have been given and the desire to continue to pay it forward to others. With the help of national sponsors and partners, the charity has hosted a broad range of food truck events around Minneapolis and other national cities and continues to help provide for the nutritional needs of individual pediatric cancer families.
To see what we have been up to recently, be sure to check out our blog:
Our Board
Our board is represented by the Hobbs family, the food service industry, and those that serve in various aspects of our community.
Our Partners, our heroes
The participating industry partners are the true heroes of Chef Lucas Food. Without their support we could not exercise our mission of "do good with food"
While we're constantly making new friends and partners, here are a few of the key partners who support/have supported our mission.
Restaurants
• Coming Soon