STEAK FRITES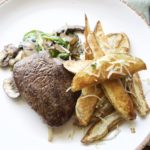 Steak frites, meaning steak and fries is a very common menu item in French brassaries. Some claim that its the national dish of France. Both Belgium and France claim to be the inventors of this delicious dish.
2 TOP SIRLOIN STEAK ((6-8 oz each))
1 oz Parmesan cheese
3 tbsp butter
2 RUSSET POTATO
2 oz SPINACH
3 cloves Garlic Cloves Chopped
3 oz CREMINI MUSHROOMS
2 sprigs ROSEMARY
1-2 SHALLOTS
2 tbsp LUCY'S PUB BLEND ((or other steak seasoning))
STEP 1: MISE EN PLACE
Pre heat oven to 450ºF. Read through the entire recipe before getting started. Wash and dry all produce, scrub potatoes well. Peel and julienne shallot. Remove rosemary from the stem and finely chop. Slice the cremini mushrooms. Mince the garlic. Slice the russet potatoes into thin wedges and pat dry. Grate the parmesan. Remove the sirloin from the package, rinse and pat dry.

STEP 2: ROAST THE POTATOES
In a large mixing bowl toss the potatoes with 1 Tbsp. of oil and a pinch of salt and pepper. Place on a foil lined sheet pan and roast in the oven for 40 minutes flipping half way through. The potatoes should have a deep golden color. While the potatoes are roasting move on to sear the steak.

STEP 3: SEAR THE STEAK
NOTE (don't start the steak until the potatoes only have 15 minutes left in the oven). In a medium skillet over medium heat add 1 tsp. of oil. Season each side of the sirloin with a pinch of the Lucy's Pub Blend. Sear the sirloin on each side for 2-3 minutes for medium rare. Remove from the pan and set aside to rest. USDA recommends cooking beef to an internal temperature of 145ºF.

STEP 4: SAUTE THE VEGGIES
In the same pan that you seared the steak in, still over medium heat, add butter. Add the cremini mushrooms and sauté for 3-4 minutes. Add the shallot and half the garlic and sauté for 1-2 minutes. Add the spinach, turn off heat, and mix in until just wilted. Season with a pinch of salt and pepper.

STEP 5: FINISH THE POTATOES
Remove potatoes from the oven and carefully place back in the large mixing bowl. Add the remaining garlic, rosemary andngrated parmesan. Toss to combine and season with a pinch of salt and pepper.

STEP 6: PLATE YOUR DISH
Divide the vegetables between two plates. Top with the seared sirloin and serve with the garlic rosemary frites on the side.

COOKING TERMS FOR THIS RECIPE ROAST To cook food with dry heat in an oven or over a fire. SEAR To cook the surface of meat very quickly with intense heat. JULIENNE To slice into thin strips about the size of matchsticks. WHAT YOU NEED MEDIUM SAUTÉ PAN LARGE MIXING BOWL FOIL LINED SHEET PAN