GOAT CHEESE-CRUSTED CHICKEN WITH CARROT MASH AND CRISPY POTATOES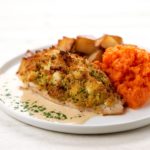 Now is your chance to take your chicken breast game to new heights when you top it with this crispy goat cheese crust. Start by stirring the panko-goat cheese mixture together, pressing it onto a chicken breast, and tossing it in the oven. Serve it next to oven-roasted potatoes and a carrot mash, and you have a meal that's a real stunner.
¼ oz. Parsley
5 oz. Canned Evaporated Whole Milk
2 Russet Potatoes
4 Carrots
2 Garlic Cloves
½ cup Panko Breadcrumbs
1 oz. Goat Cheese
2 Boneless Skinless Chicken Breasts
1 tbsp Butter
Step 1 – Prepare the Ingredients

Stem and mince parsley. Cut potato into ¾" cubes. Peel, trim, and cut carrot into ½" pieces. Mince garlic. Place a large non-stick pan over medium-high heat and add 2 tsp. olive oil. Add panko to hot pan and toast until light golden brown, 30-60 seconds. Remove from burner. Let panko cool 5 minutes. Wipe pan clean and reserve. Combine cooled panko, goat cheese, parsley (reserve a pinch for sauce), ¼ tsp. salt, and ¼ tsp. pepper in a mixing bowl. Pat chicken breasts dry, and season both sides with ¼ tsp. salt and ¼ tsp. pepper.

Step 2 – Cook the Potatoes

Heat 2 Tbsp. olive oil in a large oven-safe non-stick pan over medium-high heat. Add potatoes to hot pan and stir 1 minute. Cover, reduce heat to medium, and cook 5 minutes, stirring halfway through. Uncover, place pan in hot oven, and roast until golden brown and tender, 20-22 minutes, stirring halfway through. Remove from oven, season with a pinch of salt and pepper, and transfer to a plate. Wipe pan clean and reserve. While potatoes roast, start chicken.

Step 3 – Cook the Chicken

Place chicken breasts on prepared baking sheet. Top each chicken breast evenly with goat cheese-panko mixture, pressing gently to adhere. Roast until well-browned and chicken reaches a minimum internal temperature of 165 degrees, 15-18 minutes. Remove from oven and rest 5 minutes. While chicken roasts, make carrot mash.

Step 4 – Make the Carrot Mash

Add carrot pieces to boiling water and cook until very tender, 12-15 minutes. Drain in a colander and return to pot. Add 1 Tbsp. evaporated milk (reserve remaining for sauce) and 1 tsp. olive oil. Mash until carrot forms a coarse puree. Season with a pinch of salt and pepper. Set aside and keep warm.

Step 5 – Make the Sauce

Return pan used to cook potatoes to medium heat and add 1 tsp. olive oil. Add garlic to hot pan and cook until fragrant, 30 seconds. Add remaining evaporated milk, bring to simmer, and cook until slightly thickened, 3-4 minutes. Remove pan from burner and swirl in butter and remaining parsley. Plate dish as pictured on front of card, placing sauce on a plate and topping sauce with chicken. Bon appétit!
You Will Need: Olive Oil, Salt Pepper, Cooking Spray,
1 Medium Pot 1 Baking Sheet 1 Large Oven-Safe Non-Stick Pan 1 Mixing Bowl 1 Colander
Before you cook: Preheat oven to 400 degrees; Bring a medium pot of lightly salted water to a boil; Thoroughly rinse produce and pat dry; Prepare a baking sheet with foil and cooking spray